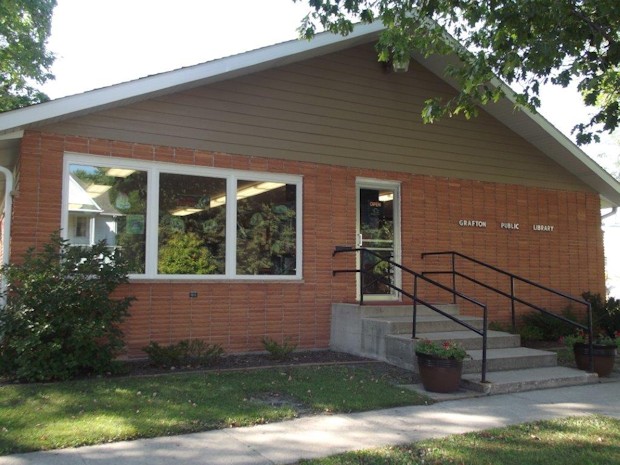 The Grafton Public Library
201 4th Avenue - P.O. Box 25
Grafton, Iowa 50440
Email: graftonlib@wctatel.net
Phone: (641) 748-2735
Fax: (641) 748-2739
Check out our website at: http://www.youseemore.com/nilc/Grafton/
Check often for updates and new information!!!

Library Hours
Tuesday through Friday - 2:00 p.m. to 6:30 p.m.
Saturday - 9:00 a.m. to 3:00 p.m.
Closed Sunday and Monday

Mission Statement
The mission of the Grafton Public Library is to provide quality materials and services which fulfill educational, informational, cultural and recreational needs of the entire community in a welcoming, respectful, and professional atmosphere.

The library adheres to the principles stated in the Library Bill of Rights and in the Freedom to Read and Freedom to View Statements published by the American Library Association.

Services Available
The Grafton Public Library has over 14,000 items available including books, DVD's, audio books and periodicals.


Children's Summer Reading Program: This event takes place in June of every year. Ask the Library Director for details and starting date.

Library Cards: Residents of Grafton, rural Worth County or cardholders from other libraries in Iowa who participate in Open Access may register for a Grafton Library card. Registration is for 3 years and is renewable.

Borrowing Privilege: Adults must have their own card to check out materials. Parents may check out library materials for their children on the parent's card. Children who are alone must have their own library card to check out materials. Children may apply for their own card after they turn four years old.

Check Out Periods: Books, audiobooks and magazines may be checked out for a TWO week period. Items may be renewed for an additional two weeks by phone or in person. DVD's and Videos are checked out for 2 library days, except when checked out on Friday or Saturday, they are not due until the following Tuesday. A return slot is located next to the east door.

Interlibrary Loan: If we do not own the book you need, you may request that we borrow it from another library.
Downloadable audiobooks and eBooks through NEIBORS: http://neibors.lib.overdrive.com/
Huge selection, no fines, no fees.

Fines:
Overdue: 25 cents per day per video or DVD.
Lost: Cost to replace item plus $2.00 processing fee
Damaged: Individually assessed fee
Printing/Copies: White or colored paper available.
20 cents per side - black & white
30 cents per side - colored text
75 cents per side - colored pictures and other graphics
Fax Machine: Faxes can be sent from the library. Any place in Iowa or to an 800 number is $1.00 for the first page, plus 50 cents per additional page. Outside of Iowa is $2.00 for the first page, 50 cents per additional page. Incoming pages are 50 cents for the first page, plus 25 cents per additional page.

Meeting Room: The building may be used for educational, cultural, civic or public information events. Anyone may use the facilities free of charge if their meetings are open to the public, free of charge and non-profit. Arrangements to use the meeting room must be made in advance with the librarian.

Public Access Computers: Computers are available for use by the public. Patrons may use a computer for word processing or to visit the Internet. Phone ahead to reserve a time slot which are available in half-hour increments. A black and white and color printer are also available.

Library Director
Nancy Walk
Accredited by the State Library of Iowa since 1997